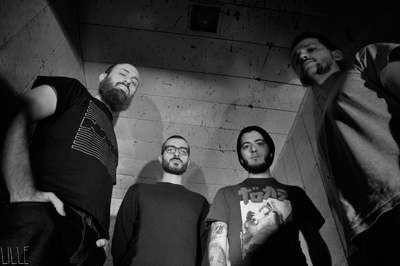 Last Minute To Jaffna is:
Valerio Damiano – vocals, guitar
Danilo Battocchio – guitar
Gianmaria Asteggiano – bass
Andrea Pellegrino – drums
Past members:
Marco Boaretto (2005-2007)
Franz Lombardo (2005-2006)
Gianpaolo Fiore (2005-2006)
Marco Orazi (2005-2006)
Savio Monachella (2006)
Matteo Battocchio (2006-2008)
Alessandro Rilampi (2007-2008)
Paolo Fazio (2008-2010)
Andrea Galliverti (2011-2013)
BIO
Last Minute To Jaffna was born in Torino Italy in the mid 2000s. Torino is famous for being Italy's darkest and most esoteric city, and the band's heavy and atmospheric music has certainly been influenced by that. The first self released ep (2006) let them get known in Italy allowing them to tour in their country and abroad. With their 2008 debut album Volume I they marked a better refinement of their own music style, thus allowing them to tour intensively throughout Europe, even opening for Isis at Torino's main independent festival and to get noticed by canadian label Abridged Pause which included their track Chapter XII in its Diluvian Temperals sampler. 2011 marked an important step in the band's history: after playing an unplugged gig opening for Neurosis' Scott Kelly they decided to record some old tracks and some new ones with acoustic guitars, clean voices and other odd instruments, helped by Fabrizio Modonese Palumbo of Young God Records's act Larsen. The result was Volume III, which finally came to light in 2014.
At the beginning of 2015 the band is set to release Volume II, recorded and mixed by Lorenzo Stecconi (Ufomammut, Zu, Lento) and mastered by Collin Jordan (Yob, Corrections House, Pelican).